A comprehensive guide to local organic and sustainably grown food, services and products in Massachusetts and beyond. A project of NOFA/Mass.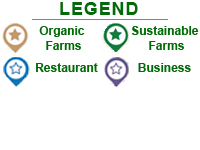 Barrett's Mill Farm is a diversified organic vegetable, fruit and flower farm located on the McGrath Farmstead in Concord, Massachusetts. The McGrath farmstead is owned by the Town of Concord and leased by Barrett's Mill Farm. We grow vegetables, [...]
449 Barretts Mill Road, Concord, MA
01742
Melissa Maxwell and Lise Holdorf
Caretaker Farm, established in 1969, is a community supported farm. We provide a nearly year-round provision of vegetables and fruits for 270 families. We also train four apprentices a year within the framework and principles of organic agriculture. The farm, [...]
1210 Hancock Road, Williamstown, MA
01267
Don Zasada and Bridget Spann
Long Life Farm strives to grow nutrient dense food that bursts with flavor by utilizing organic and mineral balanced farming techniques. Long Life Farm symbolizes a longer healthier life for the land, the farmer, their family and the community.
205 Winter St., Hopkinton, MA
01748