A comprehensive guide to local organic and sustainably grown food, services and products in Massachusetts and beyond. A project of NOFA/Mass.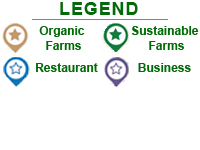 P.O. Box 516, Ashfield, MA
01330
Bug Hill Farm is a small, certified organic, uncommon fruit and edible flower farm in Ashfield, MA. We cultivate a wide variety of crops including raspberries, gooseberries, currants, wild and cultivated high-bush blueberries, strawberries, native elderberry and elderflower, native Aronia (chokeberries), and honeyberries. We craft our nutritious and delicious non-alcoholic cordials, shrubs (drinking vinegars), sauces, and spreads using our berry crops, wild harvested flowers, and locally produced raw honey and maple syrup — our products contain no added water or preservatives.
Please visit our website to find Bug Hill Farm recipes, pick-your-own dates, to purchase our products online, find a local retailer or farmers market we attend, or learn about upcoming workshops and events.
Kiss of Cassis - Black Currant Cordial, Rhubarb Rush, Elderflower Power, Fruit Shrubs (Raspberry, Strawberry, Red Currant, Blueberry), Herb and Flower Simple Syrups, Berry Noir, Black and Blue, Rhubarb Butter, The Beet Goes On, other seasonal fruit spreads and sauces, and berry plant nursery stock.
Native highbush blueberries, black currants, gooseberries, and raspberries. Opening dates will be listed on our website.
Summer Markets - Cambridge Farmers' Market, Central Square, Mondays noon to 6 p.m.
Northampton Farmers' Market, behind Thornes Market, Tuesdays 1:30 to 6:30 p.m.
Somerville Farmers' Market, Davis Square, Wednesdays noon to 6 p.m. Amherst Farmers' Market, Kendrick Park, Wednesdays 2 to 6 p.m - Great Barrington Farmers' Market, Saturdays 9 a.m. to 1 p.m.