A comprehensive guide to local organic and sustainably grown food, services and products in Massachusetts and beyond. A project of NOFA/Mass.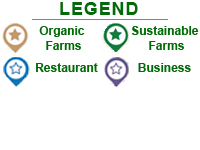 Flats Mentor Farm – World Farmers CSA
769 Main St., Lancaster, MA
01523
World Farmers' mission is to support small farmers in sustainable agricultural production and successful marketing practices to connect culturally relevant produce to viable markets. World Farmers provides mentoring, training, and hands-on assistance when working with each farmer to build the capacity needed to operate individual farming enterprises. We enact our mission through various initiatives, the most prominent of which is the Flats Mentor Farm program.
Since 1984, Flats Mentor Farm in Lancaster, Massachusetts has provided the space and infrastructure for small immigrant and refugee farmers to get started. The farmers at Flats Mentor Farm produce over 55 acres of ethnic specialty crops; supplying to wholesale and retail markets throughout New England, including over 40 farmers' markets and dozens of small scale direct-to-consumer outlets in and around Massachusetts. Participating farmers are skilled producers who come from agrarian backgrounds and seek to make a new life for themselves while preserving their cultural identity. In order to contribute to their success in the new culture and climate of the Northeast, World Farmers' Mentoring Program offers regular trainings in agricultural production, business development, and marketing. All programming is performed in a respectful environment of cross-cultural co-learning among farmers, World Farmers staff, and our interns and volunteers.
Many of the farmers at Flats Mentor Farm have told us that they never believed there would be an opportunity like this when they came to this country: access to land, trainings in new growing practices for this climate, and support in building a business in farming have made a huge impact on their ability to adapt and thrive. Just as important as our programming and services is the simple access to a safe space to learn from their neighbors, feed their families, heal, rebuild their cultural foundations, and teach the next generation all that agriculture can provide.
We are excited to offer our customers an array of ethnic vegetables that would otherwise not be found in our local markets without traveling to the vegetable markets of Asia, South America and Africa. Our shares will include varieties of mustard greens, pac choi, basils, peppers, peas, beans, squash, root vegetables and herbs.
Maria Moreira and all staff at World Farmers
In 2019, Flats Mentor Farm sold at 24 markets across Massachusetts and also at special events, such as the Backyard Bolton Community Market.
In the 2019 summer season, produce from Flats Mentor Farm was sold weekly to eight grocery and specialty stores in the Boston area, two mobile markets, the Worcester Regional Food Hub, one public school, and various restaurants and small shops. Contact us for more information.
Full Share $600/16 weeks - Partial Share $480/16 weeks.
World Farmers is excited and proud to announce that our 2021 CSA has a tiered pricing to accommodate those individuals who are food insecure or who qualify for SNAP benefits. And, our CSA is now SNAP and HIP accessible. Find details at www.worldfarmers.org/csa/