A comprehensive guide to local organic and sustainably grown food, services and products in Massachusetts and beyond. A project of NOFA/Mass.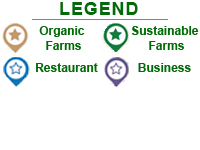 270 Greenfield Road, Colrain, MA
01340
We're doing our part to "grow a planet" by offering affordable, organically grown plants, vegetables, fruit, flowers, eggs and more, at "Lefty's Garden" farm stand at Greenfield & Coombs Hill Roads, where we also offer products of other local growers from May to November. We are soliciting pilot CSA members for produce beginning with the 2014 season, and will be accepting orders for baby chicks.
While our new farm is not certified itself, all food is grown/chickens pastured on certified organic land shared with Colrain Dairy Farm and organic growing standards are adhered to.
Variety of seasonal veggies, fruits, eggs and more, with heirloom greens of all sorts, onions, tomatoes, corn, squashes, strawberries, blueberries, raspberries, peas, beans, potatoes, pumpkins and more.
Ken Shearer/Lori Regienus
Lefty's Garden, at Coombs Hill and Greenfield Roads, Colrain, is open May to November, 7 days, 10 a.m. until dark.