A comprehensive guide to local organic and sustainably grown food, services and products in Massachusetts and beyond. A project of NOFA/Mass.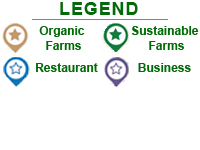 90 Wellesley St., Weston, MA
02493
Welcome to Land's Sake. We're a thriving community dedicated to building meaningful connections between people, the food they eat, and the land.
Join us for one of our many hands-on, fun programs; stop by the farm stand to pick up the season's freshest produce; or meet your friends at the farm for social gatherings. However you like to participate, you'll be a part of a dynamic nonprofit organization that engages people to preserve and maintain open space.
Land's Sake is a registered 501(c)(3) nonprofit corporation to support environmental education programs, food donation programs, and land management.
To contact us: visit https://landssake.org and click on the "contact us" link.
Flowers, Beans, Peas, Cherry Tomatoes, Herbs
To inquire about wholesale: visit https://landssake.org and click on the "contact us" link.
The Farmstand is open from June to October, Tuesday through Friday from 11 am to 7 pm and Saturday and Sunday, 11 am to 4 pm. Due to the earlier fall sunsets, starting the week of September 10, the Farmstand closes at 6 pm Tuesday through Friday.
Full season (20 week, June - October), Back to School (Sept-November) and Winter (November - December) shares available. Shares cost $230-$700; and there is a $35-$125 organizational membership that shareholders are required to purchase. We also have a Green Dollars program, where members can purchase pre-paid Farmstand credit (valid on everything we sell at the Farmstand) and receive a 5% bonus in exchange for pre-paying.