A comprehensive guide to local organic and sustainably grown food, services and products in Massachusetts and beyond. A project of NOFA/Mass.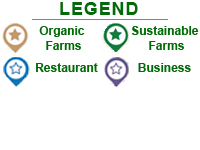 60 Beech Plain Road, Sandisfield, MA
01255
This is our fourth year of operation and we expect to reach our goal of seven to nine developed acres within the next few years. One acre at a time. We grow our farmers' market produce in raised beds and we wholesale our field-grown produce of salad greens and other complimentary produce of peppers, cucumbers, radishes, scallions, spinach and tomatoes. Everything is grown under strict guidelines following the Rudolf Steiner method of sustainable agriculture. As much as possible, we are "hands on," and our soil tests show it. No lead.
Basil, beets, carrots, cucumbers, dill, eggplant, lettuce, oregano, parsley, peppers, radishes, sage, scallions, spinach, squash, string beans, thyme, tomatoes, and more.
Otis, Saturdays 9 a.m. to noon.