A comprehensive guide to local organic and sustainably grown food, services and products in Massachusetts and beyond. A project of NOFA/Mass.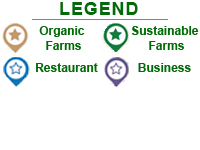 205 Winter St., Hopkinton, MA
01748
Long Life Farm strives to grow nutrient dense food that bursts with flavor by utilizing organic and mineral balanced farming techniques. Long Life Farm symbolizes a longer healthier life for the land, the farmer, their family and the community.
Vegetables and some fruit
Hopkinton Farmers' Market; Sundays 1 to 5 p.m. June - Oct
Monthly Winter Markets see dates and location at www.hopkintonfarmersmarket.com
Ashland Farmers' Market; Saturdays 9 a.m. to 1 p.m; June-Oct
Two Winter Markets in February and April, www.ashlandfarmersmarket.org
Full Size shares available for pick up every week or every other week; Individual shares pick up weekly; Tuesdays and Fridays in Hopkinton. Saturdays in Ashland.