A comprehensive guide to local organic and sustainably grown food, services and products in Massachusetts and beyond. A project of NOFA/Mass.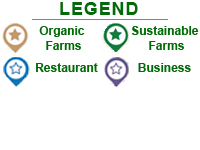 Natick Community Organic Farm
117 Eliot St, Natick, MA, United States
01760
Natick Community Organic Farm (NCOF) is a 501c3 nonprofit educational farm that has been providing productive open space, farm products, and hands-on education to people of all ages, year-round to Natick and Metrowest since 1975.  NCOF is open to the public dawn to dusk, seven days a week with no admission fee for visits and purchases. The public is invited to self-tour our production fields and woodlands, stream, and 1815 barn, and visit the livestock--cow, sheep, goats, pigs, chickens, turkeys, rabbits, and bees, but please do not enter the animal enclosures. NCOF offers extensive educational classes, programs, public events, and volunteer opportunities year-round  for youth, adults, schools, scouts, work groups.
Keep up with what's growing on at NCOF
Facebook: Natick Community Organic Farm
Twitter: natickfarm
Instagram: natickfarm
Vegetables, blueberries, raspberries; specialty-cut flowers including bouquets, arrangements, wedding and event flowers, and bulk orders; herbs; eggs; woolen yarn; maple syrup; honey; seedlings. Live lambs, and chicks in the spring, pet bunnies spring-fall. Chicken; pork including sausage; bacon and ham; beef, lamb, goat, and rabbit meat. See our website for current crops and the online store, www.natickfarm.org
Casey Townsend and Trish Wesley Umbrell
Natick Farmers' Market; Natick Common; corner of Rt. 135 and Rt. 27; Saturdays 9 a.m. to 1 p.m.; from May through October.
Open seven days a week; dawn to dusk; on honor system.
Monday through Friday Youth-run Route 16 Stand near Farm; open July through late August
For twenty weeks, from June to October, join us in eating healthy fresh vegetables, enjoying beautiful fresh flower bouquets or arrangements. CSA participation is a privilege of Farm Membership. Have questions? Visit our website.