A comprehensive guide to local organic and sustainably grown food, services and products in Massachusetts and beyond. A project of NOFA/Mass.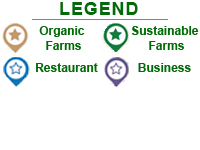 Natick Community Organic Farm
117 Eliot St, Natick, MA, United States
01760
Natick Community Organic Farm (NCOF) provides hands-on education through organic agriculture and productive land. NCOF is open to the public dawn to dusk, seven days a week. Educational classes for schools, and groups. Summer and vacation programs for all ages. We sell produce, flowers, meat, eggs, maple syrup, and seedlings, from our farm stand and at farmers' markets, as well as wholesale to local restaurants.
You can find Natick Community Organic Farm on Facebook. We're on Twitter: natickfarm.
Produce; flowers; herbs; eggs; yarn; maple syrup; honey; seedlings and perennial plants. Live lambs and kids in the spring. In the fall; chicken; pork (including sausage; bacon and ham); beef (every other year) and pet rabbits at various times.
Casey Townsend and Trish Wesley Umbrell
Natick Farmers' Market; Natick Common; corner of Rt. 135 and Rt. 27; Saturdays 9 a.m. to 1 p.m.; from May through October.
Open seven days a week; dawn to dusk; on honor system.
Monday through Friday Youth-run Route 16 Stand near Farm; open July through late August
For twenty weeks, from June to October, join us in eating healthy fresh vegetables, enjoying beautiful fresh flowers, or both! CSA participation is a privilege of Farm Membership. Have questions? Reach out to [email protected]