A comprehensive guide to local organic and sustainably grown food, services and products in Massachusetts and beyond. A project of NOFA/Mass.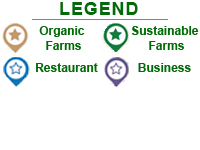 124 Meadow Road, Townsend, MA
01469
North Forty Farm is a small family farm offering consumers a wide variety of fresh produce and cut flowers, along with locally produced honey and maple syrup at our farm stand. We use organic, sustainable farming practices but are not certified organic. We recently expanded to include a CSA, which create a direct relationship between consumers and farmers: You know who is growing your food.
We grow a wide variety of vegetables, fruits, herbs and cut flowers. Our farm stand also carries plus honey and maple syrup from local producers.
Open according to season. Call or check website for days and hours of operation.
Full share (feeds three to four people) $525; half share (feeds one to two people) $280; flower share, $90. Pick up Saturdays 10 a.m. to 4 p.m., Tuesdays 4 p.m. to 7 p.m., or Thursdays 4 p.m. to 7 p.m. All pickups are at the farm.