A comprehensive guide to local organic and sustainably grown food, services and products in Massachusetts and beyond. A project of NOFA/Mass.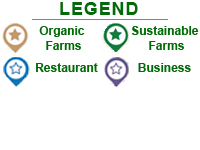 7 Carver Street Granby MA 01033
01033
Red Fire Farm is a certified organic produce farm with fields in the towns of Granby & Montague MA.  We grow over 100 acres of produce crops each season.  Our produce is available via CSA shares in Western MA & also the greater Boston area.  We also sell at our farm store (7 Carver Street Granby MA 01033), at summer & winter season farmers markets, and wholesale to stores, restauarants and food service in MA.
Vegetables A-Z, also melons, blueberries, strawberries.
Red Fire Farm
184 Meadow Road
Montague MA 01351
[email protected]
www.redfirefarm.com
strawberries, blueberries, peas, beans, cherry tomatoes, pumpkins & more available seasonally to members and also general public.
Springfield Forest Park, Northampton Tuesday,
Winter Season: Wayland, Somerville, Northampton, Springield, Greenfield
Please contact us at [email protected]
We have distribution in Western MA & Greater Boston area
Our store is at 7 Carver Street Granby MA 01033. Open daily from May 1- mid Nov.
Many distribution locations available in Western MA & the greater Boston area. Please see out website at www.redfirefarm.com for current updated details. We offer summer, fall, winter & spring share options with add on shares of cut flowers, fruits, mushrooms & more!