A comprehensive guide to local organic and sustainably grown food, services and products in Massachusetts and beyond. A project of NOFA/Mass.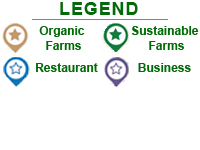 113 Haynes Road, Sudbury, MA
01776
We are delighted by the opportunity to be your farmers for the 2019 harvest season.
Thank you for supporting Siena Farms all year round!
We grow over 200 varieties of vegetables, raise chickens for eggs, grow thousands of sunflowers each year (and they're edible, too!), and grow some small fruit. We do not sell on-farm.
Copley Square Farmers' Market, Boston, Tuesdays and Fridays 11 a.m. to 6:30 p.m. mid-May through mid-November
For all Wholesale Inquiries please contact our Harvest Manager, Farmer MJ Cordova via email: [email protected]
Boston Public Market
100 Hanover Street
Boston, MA 02108
Open 7 days per week
Siena Farms South End
106 Waltham Street
Boston, MA 02116
Open 7 days per week
STARTING FRIDAY, MAY 10th
Copley Square Farmers Market
139 Saint James Ave
Boston, Copley Square Farmers Market
Tuesday & Friday, 11 AM-6 PM
Please visit us online: www.sienafarms.com for full CSA details in all four seasons and to sign up direct using our automated registration system.