A comprehensive guide to local organic and sustainably grown food, services and products in Massachusetts and beyond. A project of NOFA/Mass.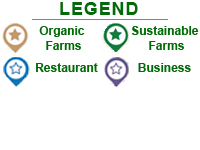 416 Bay Road, Amherst, MA
01002
Small Ones Farm is a 63-acre, family-owned farm in South Amherst. We grow tree fruit (apples, peaches, plums and pears), berries, pumpkins and herbs for local markets using natural (i.e., no synthetic chemicals), sustainable and biodynamic growing practices. We participate in the Certified Naturally Grown program. We sell our produce through a fruit CSA, our farm stand, and wholesale buyers.
Our farm also offers programs to the community, including: school visits, retreats, meeting space, and internships for college students. We have raised thousands of dollars for community organizations through our fundraising program. Check our website for more details.
Apples, peaches, pears, plums, raspberries, blueberries, pumpkins, hay, herbs, apple cider, apple cider vinegar, apple pies. We will offer other local organic products at our farm shop during our season.
Our farm stand is located in front of the farm (416 Bay Road) and is open daily from late June through Thanksgiving.
Most years, we offer a Summer (August) and a Fall (September/October) CSA. CSA offerings are dependent which crops are available each year. Summer CSA fruits typically include raspberries, blueberries, peaches, and early apples. Fall CSA fruits typically include Asian pears, plums, many apple varieties, and one of our pies.
Our CSA offerings are developed in May each year. Please contact us via our website if you would like to be notified when our CSA programs are announced.