A comprehensive guide to local organic and sustainably grown food, services and products in Massachusetts and beyond. A project of NOFA/Mass.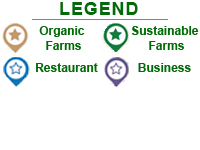 PO Box 736, Carlisle, MA
01741
Sweet Autumn is a solar-powered farm that utilizes a holistic approach for growing nutritious food. A small portion of the 14 acres is intensively farmed and the rest is comprised of native plantings, fields, and a pond, which provide shelter and food for beneficial insects and wildlife.
The farm is not only organic, but also ecologically managed via bird boxes, bat houses, pollinator habitats, beetle banks & hedgerows. Veggies, flowers, a wide variety of fresh herbs and specialty crops as well.
Chicken eggs; Duck eggs; Heirloom vegetables; Cut and edible flowers; Herbs; Heirloom tomato and pepper seedlings. Seedling sale in June.
New offerings are the farm's herbal teas and dried hot peppers.
Carlisle; Kimball's Ice Cream Stand; Saturdays 8 a.m. to noon
Starting in May; Fridays & Saturdays from 12pm-6pm.