A comprehensive guide to local organic and sustainably grown food, services and products in Massachusetts and beyond. A project of NOFA/Mass.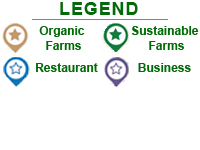 1047 Concord Turnpike, Concord, MA
01742
The Farm at Walden Woods is a small organic produce farm on Route 2 eastbound in Concord, MA. It is owned and operated by a nonprofit organization, the Walden Woods Project. We grow a wide variety of vegetables which we sell in our farm stand, located at 1047 Concord Turnpike, Concord, MA. In addition to our veggies we sell local honey, MA maple syrup, local jams and pickles, apples, local fruit (peaches, plums, nectarines and berries), milk, apple cider, beef jerky, and local cheese. We also sell our produce to several local restaurants.
The organic products we sell are: beets, carrots, tomatoes, eggplant, peppers, kale, chard, lettuce, broccoli, turnips, cabbage, cauliflower, Brussels sprouts, Jerusalem artichokes, cucumbers, zucchini, summer squash, garlic, strawberries, onions, shallots, leeks, scallions, blueberries, green beans, fennel and herbs.
Our farm stand is open Wednesday-Sunday 11 am- 7 pm from the end of June though October 31st. We are also opening Labor Day and Columbus Day.