A comprehensive guide to local organic and sustainably grown food, services and products in Massachusetts and beyond. A project of NOFA/Mass.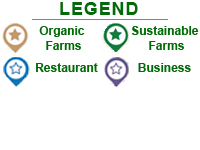 30 Elmwood St., Salisbury, MA
01952
We are a 10-acre certified organic farm and retail nursery operation. In our greenhouses, we sell over 800 varieties of potted plants and seedlings, including herbs, heirloom vegetables and old-fashioned flowers. Eggs from our chickens are available in season, as well as honey from our own bees. Herbal products (vinegars, oils, salts, sugars, lotions, creams, lipbalms, etc.) are available year around.
Rita is an Accredited Organic Land Care Professional whose services are offered at The HERB FARMacy.
From our greenhouses, we sell potted herbs, vegetables, flowers (annuals and perennials), natives and an assortment of berries and trees. From our fields, we sell cut herbs, cut flowers, garlic, greens, heirloom tomatoes, ginger and tumeric.
Rita Wollmering and Brooke Finn
Lexington, Tuesdays 2 to 6:30 p.m.
Cape Ann, Thursdays 3 to 6:30 p.m.
Marblehead, Saturdays 9 a.m. to noon
Newburyport, Sundays 10 a.m. to 2 p.m.
Our greenhouses are open daily 9 a.m. to 5 p.m., in season. Please call for off-season hours.