A comprehensive guide to local organic and sustainably grown food, services and products in Massachusetts and beyond. A project of NOFA/Mass.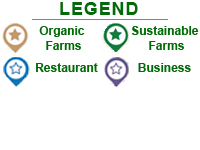 Trustees of Reservations – City Harvest
2468 Washington St, Canton, MA, USA
02101
The City Harvest Youth Program is a farm-based program that fosters a connection to the land and local food through hands-on, agricultural experiences while teaching critical work and leadership skills at the same time. The program challenges youth to step out of their comfort zones while developing critical work skills and opening their eyes to the importance of local food – to our health, our communities, and the local economy. The youth grow healthy food for food pantries and farmers markets – and are now launching their own Community Supported Agriculture program based at the Bradley Estate in Canton – while infusing leadership skills and changing perspectives along the way.
The youth take on all of the jobs at the farm – planting, weeding, and hoeing in the fields, then sales and customer service through the farmers market and CSA. The youth have also become teachers and mentors through a partnership with the Mattapan, Blue Hills, and Yawkey Way Boys & Girls Clubs, in which the Youth Corps teens work with the Boys & Girls Club students in the farm fields once a week, and then continue the lessons in the classroom.
For its first three seasons, the City Harvest Youth Corps program was based at The Trustees' Powisset Farm in Dover and operated for the summer growing season from June through August. In just three short years the program has offered farm-based educational programming for more than 250 children, accumulated more than 200 volunteer hours from partner organizations, and served hundreds people who are able to buy fresh produce from the youth at the Mattapan Farmers Market.
You can purchase our produce at our farmers market booths in Mattapan and Dorchester.
Everyday dawn to dusk self service starting July - October