A comprehensive guide to local organic and sustainably grown food, services and products in Massachusetts and beyond. A project of NOFA/Mass.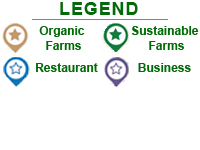 575 Washington St, Brighton, MA, United States
02135
We are a local-focused food store, providing neighborhood access to locally grown/produced, organic or sustainably produced foods in Brighton. We make dinner easy with pre-made meals to heat up and meals that come together easily. We have grab-and-go lunches and coffee and tea, to take out or savor here. We have great healthy snacks, and snacks that are good for the soul. And we host events every weekend. Come by to try something tasty and find out about where your food is coming from.
Produce
Meats and fish
Dairy and eggs
Dinner and lunch
Snacks and sweets
Coffee, tea, and cocoa
Jams and nut butters
Fresh and frozen pastas
Sauces and condiments
Spices and herbs
Bath, body, and household products
Wildflower Pantry
575 Washington St
Brighton, MA 02135