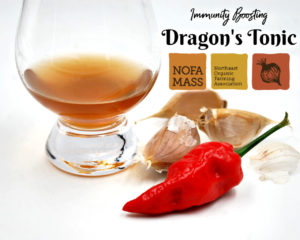 F.O.O.D. Focus on the Organic Difference
vol. 8 December 7, 2018
Profile and recipe from Sammi-Jo Crosby of Boondocks Botanicals, Inc. of Hubbardston, MA
By Christy Bassett for The Organic Food Guide and NOFA/Mass
Sammi-Jo Crosby teaches us how to make our own "Dragon's Tonic" (aka Fire Cider, but since that is a trademarked name, we can't call it that.)  This spicy, acidic tonic is easy to make at home and is perfect for chasing away winter germs.  If you don't have a stockpile of dried organic hot peppers or cured garlic, you can also purchase pre-made Dragon's Tonic from Boondocks Botanicals Inc.  Find them on The Organic Food Guide, Etsy, Facebook or Instagram for more information.
Are you a farmer, gardener, homesteader, consumer, landscaper or food activist?
I am all of these things except for a landscaper and food activist – although I am quite concerned about finding and consuming well-grown food.
What type of food to do grow, if any?  Do you sell it and where?
We grow a vegetable and herb garden every year for our family. We also raise our own meat birds and egg layers. Any extra is given away or traded with family, friends and neighbors. We do not sell food at this time.
Why do you love local food?
It tastes better! Truly and in all seriousness it does, and I also prefer knowing how it was grown, what it ate and how happy its life was; this goes for the plants too!
Why do you choose organic?
Organic is an important choice for me because I have seen and experienced the deadly effects chemical toxicity can have on the body. The fact that it is partly a choice to put these slow killers into our system is very troubling. I do all I can to prevent my family from taking any in. Therefore, we grow and care for all our vegetables, herbs and poultry as organically as possible.
Why do you love Massachusetts?
MA is home to me. My maternal great-grandparents came over from Finland way back and began farming the same land my uncle is working today. "Damn rocky hillside" and all. It's in my blood.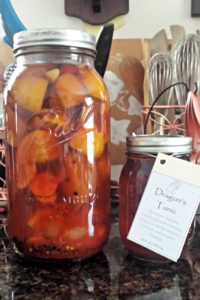 Dragon's Tonic (aka Fire Cider)
I typically make a big batch of this for the Fall and then again in the Spring for two reasons: to help combat the seasonal allergies/cold as well as to have on hand all year for cooking.
My favorite thing about this recipe is the flexibility! As long as an ingredient is fresh and spicy, throw it in the mix! My other favorite thing is most of the ingredients are grown right out in our garden, making it organic, easy (and inexpensive!) to put together.
Now, we're going to end up straining all this at the end, so there's no need to get hung up on keeping out onion skins or pepper seeds. This recipe can be completely made to taste, as long as you've got the bones of it. Amounts are set for a half gallon sized mason jar, so you can add or subtract as your container & taste allows.
Ingredients:
4-6 organic Habanero peppers, sliced with seeds
6-8 organic Cayenne peppers, sliced with seeds
½ head organic Garlic, roughly chopped
3 organic Onions, roughly chopped
Hand sized organic Ginger root, roughly chopped – no need to peel unless skin is wicked dirty
About 8" long organic Horseradish root, peeled and roughly chopped
About 8 pieces organic Turmeric root, peeled and roughly chopped
¼ Cup Black peppercorns
Organic Apple Cider Vinegar, with the Mother – homemade or purchased
Local organic Honey, to taste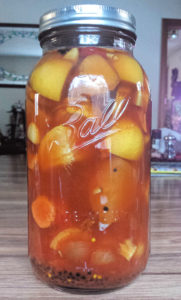 Directions:
Start with a clean mason jar & lid (I like using the half gallon size).
Place all the prepared ingredients in the jar
Cover completely with Apple Cider Vinegar, leave a little head space for future mixing & make sure to stir to eliminate air bubbles.
Screw on you jar lid
Let sit in a warm place out of direct light for 8 weeks, turning the jar every few days or so to mix up the concoction.
Once fully infused, strain out all the bits and reserve the liquid.
Warm up the honey & stir it in. I like mine a little more on the spicy side, so I'll only add about a shy quarter cup to this recipe.
Use a shot a day of this tonic to fend off colds, flus and allergy symptoms with its infused immune, digestive and circulatory boosting properties. I also like to use it in the kitchen as a marinade base, adding in herbs as desired.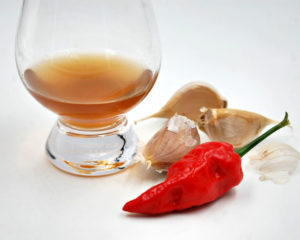 https://www.theorganicfoodguide.org/newsite/wp-content/uploads/2018/12/Dragons-Tonic-with-logo.jpg
819
1024
Christy
https://www.theorganicfoodguide.org/newsite/wp-content/uploads/2021/05/2021-ofg-logo.png
Christy
2018-12-07 14:11:41
2018-12-21 03:40:29
Dragon's Tonic with Boondocks Botanicals, Inc.