F.O.O.D. Focus on the Organic Difference
vol. 9 December 14, 2018
By Christy Bassett for The Organic Food Guide and NOFA/Mass
During the darkest weeks of the year, when the memories of tender greens and fresh harvests begin to fade, I always crave a heartier vegetable to take their place.  This is good, because much of what we have to sustain us throughout the season is winter squash.  Each year I seem to discover another variety of this versatile storage crop that I fall in love with.  But I always come back to butternut.  It is naturally sweet and aromatic, but solid and strong.  It is the perfect stand-in veggie for almost any recipe.
This bisque includes an entire roasted hot pepper (I used a fully ripe ghost pepper), which makes for quite a spicy and savory flavor profile.  But feel free omit the pepper all together or substitute a few red pepper flakes for a milder, sweeter dish that the whole family can enjoy.
Sweet and Spicy Butternut Bisque
Ingredients:
3 cups organic butternut squash (about 2 small-medium)
4 cups organic chicken stock
½ cup raw organic cream
1 head organic garlic
3 small organic yellow onions
1 organic hot pepper
Dash of cinnamon
Dash of nutmeg
3 Tbs organic butter
1 tsp organic extra virgin olive oil
1 tsp sea salt
Directions:
Preheat oven to 350 degrees.
Cut butternut squash in half, length-wise. Remove seeds and membrane.  Place cut side down on a baking sheet, pierce skin to allow steam to escape and bake in preheated oven until tender, about 1 hour.
While squash is cooking, you can also roast the garlic, onion and hot pepper. Cut the top 1/4 inch off the head of garlic as well as the onion.  Place these as well as the hot pepper on a square of aluminum foil.  Drizzle each with olive oil and wrap with surrounding foil. Place in a small baking dish and cook in preheated oven for 45 minutes.  After removing from the oven and cooling, gently separate garlic cloves from peel, onion from the skin and the hot pepper from the stem.
Once squash is roasted, remove from oven and allow to cool. Scoop pulp out of shell and place in a blender or food processor.  Add chicken stock, garlic cloves, onion, hot pepper, butter, cinnamon, nutmeg and sea salt.  Blend until smooth and fully combined.  Add cream and blend again.
Heat on the stovetop until desired temperature is reached. Top with a drizzle of organic raw cream and swirl with a skewer for visual interest.  Enjoy!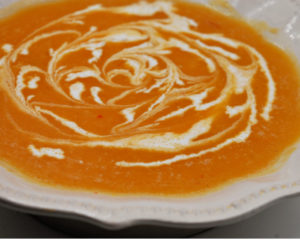 https://www.theorganicfoodguide.org/newsite/wp-content/uploads/2018/12/Butternut-Bisque-with-logo.jpg
819
1024
Christy
https://www.theorganicfoodguide.org/newsite/wp-content/uploads/2021/05/2021-ofg-logo.png
Christy
2018-12-14 22:13:25
2018-12-14 22:13:25
Sweet and Spicy Butternut Bisque