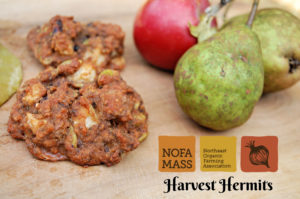 Harvest Hermits
F.O.O.D.  Focus on the Organic Difference
vol. 3  11/2/18
By Christy Bassett for The Organic Food Guide and NOFA/Mass
As summer berries become a faint memory, autumn fruits fill the woven wire basket on the counter and inspire ideas of warm apple pie and poached pear parfait.  The spice cabinet seems to call out with offers of warming cinnamon blends to break through the chilled air, and the idea of having the oven on isn't such a scary thought.
In our home, we try to limit sugar and processed grains, so cookies are hard to come by.  But that doesn't stop the cravings.  I've tried many recipes that replace all purpose flour with almond or coconut flour, but they inevitably coming out dry and crumbly.  That is, until I developed this amazingly satisfying recipe for Harvest Hermits.
"My nostrils smell mommy's cookies!" my daughter exclaimed after I put these in the oven the other day.  It was, of course, that comforting cinnamon blend that reached her nose even in the other room.  If she'll eat these real food concoctions, hidden protein and all, I'll take the recognition for making her smile.
Make these cookies in October or November, when apples and pears have been picked freshly for storage.  Since these two fruits are listed on "The Dirty Dozen", it's especially important to purchase them as organic.  Play the calendar correctly, and you may even be able to find Massachusetts cranberries to add to the mix.
Ingredients
Dry ingredients
1 cup organic almond flour
4 Tbs organic coconut flour
1 Tbs organic chia seeds
1 tsp baking soda
¼ tsp sea salt
1 ½ Tbs cinnamon
1 ½ Tbs cloves
1 Tbs nutmeg
Wet ingredients
2 Tbs organic milk
1 Tbs organic butter, melted
3 Tbs maple syrup
2 organic eggs
1 ½ tsp vanilla extract
2 tsp organic raw apple cider vinegar
Additives
1 cup diced organic apple
1 cup diced organic pear
½ cup shelled pumpkin seeds or chopped nuts of your choice
½ cup diced cranberries or raisins
Directions
Preheat oven to 350 degrees F
Combine dry ingredients in a medium bowl, set aside.
Mix milk, butter, maple syrup, eggs, vanilla and apple cider vinegar in another bowl. Add to dry ingredients and stir well.  Fold in fruit and nuts.  Stir to combine, careful not to overmix.
Drop by spoonful's onto a baking sheet lined with parchment paper.
Bake for 30-40 minutes or until the center of each cookie is firm.
Remove from oven transfer to a wire cooling rack. Once cool, store in the refrigerator for up to 1 week.
https://www.theorganicfoodguide.org/newsite/wp-content/uploads/2018/11/Harvest-Hermits-1.jpg
681
1024
Christy
https://www.theorganicfoodguide.org/newsite/wp-content/uploads/2021/05/2021-ofg-logo.png
Christy
2018-11-02 02:27:20
2018-11-02 02:38:32
Harvest Hermits