F.O.O.D.  Focus on the Organic Difference
vol. 2  10/26/18
By Christy Bassett for The Organic Food Guide and NOFA/Mass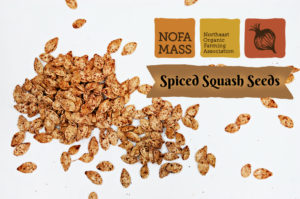 Spiced Squash Seeds
'Tis the season for sitting by the fire while two halves of a homegrown winter squash bake in the oven.  Harvesting the last of the field crops that sit speckled on the ground, after frost has touched and wilted their leaves, feels both heroic and dismal.  These final trophies of a full season in the sun, battling uncooperative weather, ravenous rodents, persistent pests and strangling weeds, represent the end of a chapter in the short growing season of New England.  Relief.  Gratitude.  Rest.
We cart the squashes to our root cellars, imagining the full bellies that they will bestow in the cold months ahead.  Their sweet flesh is perfect comfort food as a part of family meals, festive gatherings and simple side dishes.
But don't (you dare) forget about the seeds.  Squash seeds are highly nutritious, packing plenty of protein, healthy fat, fiber, antioxidants, iron, zinc and magnesium.  They are the perfect crunchy snack to take on a road trip, pack into a picnic lunch, or add as an enhancement to a wholesome soup or salad.  And if they're grown organically, and processed without artificial flavors or preservatives, they can be an extremely healthy replacement for commercial chips or convenience snacks.  Try them with sweet or savory spices to compliment your mood.
Ingredients:
1 ½ cups organic pumpkin or winter squash seeds
1 Tbs organic leaf lard, melted (or other cooking oil as desired)
1 Tbs organic spices of choice (variety suggestions below)
Flavor Varieties
Salted Herb:
¼ tsp parsley
¼ tsp thyme
½ tsp onion powder
½ tsp garlic powder
1 Tbs Sea Salt
Pumpkin Spice:
1 Tbs organic maple syrup
1 Tbs pumpkin pie spice (cinnamon, nutmeg, clove, ginger)
Directions:
Separate seeds from squash pulp and rinse through a strainer. Place clean seeds on a towel to dry overnight, or as long as is needed to remove excess moisture.
Preheat oven to 350 degrees F.
Once seeds are dry, place seeds into a large mixing bowl.
Melt leaf lard in a cast iron skillet over medium heat and pour over raw seeds, stirring quickly, as the lard will harden as it touches the cool seeds.
Sprinkle with desired seasoning and stir well to coat all seeds.
Spread seeds in an even layer on a baking sheet, lined with parchment paper.
Bake for 20-30 minutes or until seeds are well toasted, turning once or twice.
Remove from oven and allow to cool. Store in an air tight container.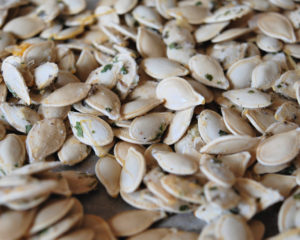 https://www.theorganicfoodguide.org/newsite/wp-content/uploads/2018/10/Seed-banner.jpg
681
1024
Christy
https://www.theorganicfoodguide.org/newsite/wp-content/uploads/2021/05/2021-ofg-logo.png
Christy
2018-10-26 21:16:18
2018-11-02 02:28:52
Spiced Squash Seeds