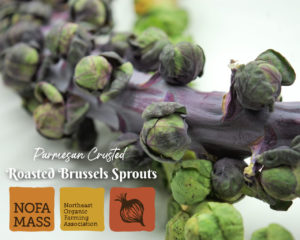 F.O.O.D. Focus on the Organic Difference
vol. 11 December 28, 2018
By Christy Bassett for The Organic Food Guide and NOFA/Mass
As a child, I grew up thinking that Brussels sprouts were vile vegetables that should never be tasted, and for sure would never be brought to the dinner table.  Not because I had a bad experience with them, just because they were the brunt of every cartoon joke that poked fun at bad tasting food.  If movie characters thought that Brussels sprouts were gross, so did I.
To my amazement, when I became an adult and decided to give Brussels a chance, I fell in love with the tiny cabbages.  Brussels sprouts are sweet, tasty and bite-sized.  Their leaves get crispy on the outside when roasted, while the centers remain soft and multi-folded.  Harvest them in the fall, just after a hard frost, or even into early winter when little else is left in the garden.  Cook them at high heat to toast the outer edges well.  These Parmesan crusted roasted Brussels sprouts are an excellent side dish with almost any main course, or perfect for finger snacking as an appetizer.
Parmesan Crusted Roasted Brussels Sprouts
Ingredients:
4 cups organic Brussels sprouts, about 2 stalks worth
1 Tbs organic extra virgin olive oil
2 Tbs organic grated Parmesan
1 tsp organic garlic powder
1 tsp sea salt
Directions:
Preheat oven to 425 degrees F.
Trim ends of Brussels sprouts and cut if half, if large.
Rinse prepared Brussels sprouts and place in a large bowl. Drizzle with olive oil and toss to coat.
Sprinkle with garlic powder and sea salt. Toss to coat.
Place sprouts on a baking sheet lined with foil or parchment paper, making sure that they are not overlapping.
Sprinkle with Parmesan cheese.
Bake for 20 minutes or until top and edges are golden brown and crispy.
https://www.theorganicfoodguide.org/newsite/wp-content/uploads/2018/12/Purple-Brussels-with-logo.jpg
819
1024
Christy
https://www.theorganicfoodguide.org/newsite/wp-content/uploads/2021/05/2021-ofg-logo.png
Christy
2018-12-28 22:32:33
2018-12-28 22:32:33
Parmesan Crusted Roasted Brussels Sprouts