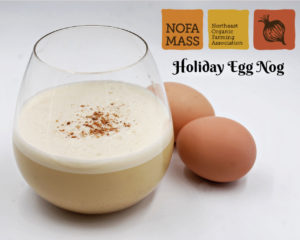 F.O.O.D. Focus on the Organic Difference
vol. 10 December 21, 2018
Profile and recipe from Ellisa Miller of Walnut Kitchen Homestead of Orange, MA
By Christy Bassett for The Organic Food Guide and NOFA/Mass
Elissa and her family are small scale farmers in the North Quabbin region of central Massachusetts.  With a focus on organically fed and humanely raised pigs and chickens, Walnut Kitchen Homestead is known for the quality local food that they produce.  Follow them online at walnutkitchenhomestead.com, on Facebook, Instagram, Twitter and right here on The Organic Food Guide.
Speaking of quality local food, if you're feeling indulgent, treat yourself to this amazingly rich and decadent dessert drink made from organic pasture-raised eggs, raw milk and Massachusetts maple syrup.  This homemade egg nog will get your name on everyone's guest list this holiday season.
Are you a farmer, gardener, homesteader, consumer, landscaper or food activist?
I'd classify myself as a farmer these days, although back when I started getting into farming I would have chosen homesteader.
What type of food to do grow, if any?  Do you sell it and where?
The focus of our farm is about producing high quality animal products, but we do have a couple side ventures as well (cut flowers, for instance).  Walnut Kitchen Homestead (WKH) is mostly known for the pork and eggs we sell, but we also have seasonally dependent supplies of lamb, chicken, and goat. Every week we go to the local markets to sell our products: Orange, Athol, Petersham, and also Princeton.  If a customer has a request to purchase outside of those days, we are happy to try and accommodate if we are contacted.
Why do you love local food?
I love local food (and locally created products) because I think it is so important to keep communities alive. There are several arguments out there on why local is better: reduced carbon emissions from transport, ability to support animal/plant species biodiversity, all the way through indirectly supporting local bee/pollinator populations.  And while these are all valid, I love nothing more than the sense of connection that I have to a place when I am able to buy my tomatoes, potatoes, peppers, and garlic from those who live here and work on the same general land area as I do. Not to mention, the food usually tastes better!
Why do you choose organic?
There is a distinction that I find important between Certified/USDA Organic and non-certified, but raised with organic standards in mind.  Either of these are valid choices, but when I choose organic, I focus on looking for products where I understand how they are produced, more so than the official 'Certified Organic' label.  This is because I prioritize local over organic.
I want any animal's products that I'm buying to have had good welfare standards – and if a cow was sick two years ago and needed non-organic treatment to recover, then I will quite happily buy from a producer who uses the animal's welfare as their first priority.  However, the aforementioned scenario is a far cry from some forms of conventional farming that I have witnessed in the Midwest, where gallons of herbicides/pesticides are sprayed onto crops with the potential to contaminate run-off water during heavy rain.
So, I choose organic because I want to support an effort that aspires to better farming practices.  But above all – I choose organic because I am connected to my food, and want to know what went into it and how it was raised.  If I can talk to a farmer and find that information out, then that's good enough for me.
Why do you love Massachusetts?
My family has moved quite a bit over the past twenty years.  I don't generally put down much in the way of roots when I get somewhere, but my husband and I think this is the place we are going to be for a while, and it's because Massachusetts feels like home.  We love our neighbors, the hill towns, maple syrup, winding roads, and crisp air first thing in the morning.
Holiday Egg Nog
Ingredients:
12 large organic pasture raised egg yolks
1 ½ cups maple syrup
½ tsp salt
2 quarts raw organic whole milk
2 Tbs vanilla extract
2 cups organic raw heavy cream
1 tsp plus a dash of ground nutmeg
Directions:
In a large saucepan, beat egg yolks, syrup, salt with a whisk until well blended.
Add 1 quart milk and bring to a simmer over low heat, stirring constantly, until mixture thickens and coats the back of a spoon well. (About 25 minutes or until temperature reaches 160 degrees F.)  Do not allow to get too hot, as the custard will separate.
Pour custard into a large bowl. Stir in vanilla and 1 tsp nutmeg and remaining milk.  Cover and refrigerate at least 3 hours.
When ready to serve, beat heavy cream with an electric mixer until soft peaks form. Gently fold whipped cream into cooled custard with a whisk.
Serve with a dash of ground nutmeg on top. Makes about 16 cups.
https://www.theorganicfoodguide.org/newsite/wp-content/uploads/2018/12/Egg-Nog-with-logo.jpg
819
1024
Christy
https://www.theorganicfoodguide.org/newsite/wp-content/uploads/2021/05/2021-ofg-logo.png
Christy
2018-12-21 03:38:44
2018-12-21 03:41:21
Holiday Egg Nog with Walnut Kitchen Homestead