A comprehensive guide to local organic and sustainably grown food, services and products in Massachusetts and beyond. A project of NOFA/Mass.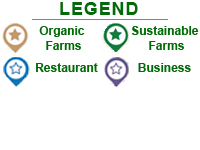 35 Apple St., Essex, MA
01929
Apple Street Farm is located in historic Essex, Massachusetts. We cultivate 5 acres of vegetables using sustainable methods and we pasture-raise heritage breeds of poultry (laying hens, meat chickens, turkeys, ducks and geese) and have a small flock of dairy goats.
We have a small CSA (75 shares in 2012) and supply our partner restaurants in Boston: L'Espalier and Sel de la Terre, as well as some North Shore restaurants and caterers. We host cooking classes and on-farm dinners throughout the season, featuring the award-winning cooking of the chefs from our partner restaurants.
All our crops are grown without chemical fertilizers, pesticides, or herbicides. We use compost and manure to promote the health and fertility of our soil. All of our heritage breeds of poultry are raised on 100% organic feed and on pasture.
Squash, Basil, Beans, Beets, Kale, Braising Greens, Broccoli, Cabbage, Carrots, Chicken, Corn, Cucumber, Eggs, Eggplant, Potatoes, Flowers, Garlic, Garlic, Tomato, Hot Pepper, Leek, Lettuce, Peas, Pumpkin, Raspberry, Spinach, Onions, Squash, Strawberries, Sweet Peppers, Swiss Chard, Herbs, Tomatoes, Turkey, Winter Squash,
We offer a small size share, perfect for a couple or small family. Shares cost $450 for a 20-week season starting in early June. Email the "info" address for more information.