A comprehensive guide to local organic and sustainably grown food, services and products in Massachusetts and beyond. A project of NOFA/Mass.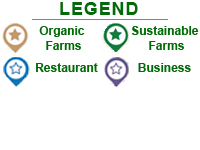 175 East Center Street, West Bridgewater, MA, USA
02379
C&C Reading Farm is a 'real' farm, growing over 90% of our own quality products, organically and traditionally grown of the highest quality products that we offer for sale! Our farm has nearly quadrupled in size since it's inception, boasting  75 acres of lush and fertile farmland!
We are the only GAP certified (Good Agricultural Practices) food safety farm in Plymouth County growing small fruits and vegetables, and the first farm in Massachusetts to pass the GAP with a 100% score! We are also Baystate Organic Certified, and the second farm in Massachusetts to be Commonwealth Quality Certified. Despite all of these accomplishments, we always strive to better ourselves and make our products affordable for our customers.
C&C Reading Farm LLC, is located at 175 East Center St, West Bridgewater, MA 02379
Beans, beets, bok choy, broccoli, butternut squash, cabbage, cherry tomatoes, cucumbers, eggplant, flowers, garlic, golden zucchini, greens mix, herbs, kale, lettuce, melons, microgreens, pac choi, peas, peppers, pickling cucumbers, radishes, rhubarb, spinach, summer squash, tomatillos, tomatoes, heirloom tomatoes, winter squash, zucchini
Farmer Pete and Lynn Reading
Blueberries, raspberries, strawberries, & pumpkins Please call ahead to find out what's available each day! Coming this fall: Enjoy some good old fashioned fun in our Corn Maze, Wagon Rides, Pumpkin Patch and More!
Visit our authentic New England country style farm stand Monday thru Friday 10:00 a.m. to 6:30 p.m. & Saturday/Sunday 9:00 a.m. to 6:30 p.m.
Join Us! We offer CSA Harvest Cards May thru December. Please visit our website for all the details.