A comprehensive guide to local organic and sustainably grown food, services and products in Massachusetts and beyond. A project of NOFA/Mass.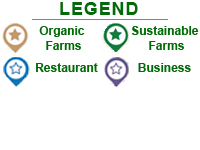 209 Spring St., Florence, MA
01062
Crimson & Clover Farm is a 17-acre mixed vegetable farm. We offer shares to 370 families in the Northampton area and we attend the Tuesday and Saturday farmers' markets in Northampton. We grow our vegetables using sustainable practices. We are community based farm which means that we prioritize local sales and encourage community involvement in the farm.
Beets, Bok Choy, Broccoli, Brussels Sprouts, Cabbage, Carrots, Cauliflower, Celeriac, Chard, Cucumber, Eggplant, Endive, Fennel, Garlic, Mesclun, Kale, Kohlrabi, Leek, Lettuce, Melons, Scallions, Onions, Parsnips, Peppers, Potatoes, Sweet Potatoes, Radicchio, Radishes, Rutabaga, Shallots, Spinach, Summer Squash, Winter Squash, Tomatoes, Turnips
Tuesday and Saturday Farmers' Markets in Northampton.
Small $390 , Regular $550. All shares picked up at 215 Spring St. in Florence.