A comprehensive guide to local organic and sustainably grown food, services and products in Massachusetts and beyond. A project of NOFA/Mass.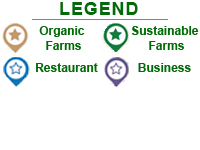 Moraine Farm, The Trustees of Reservations
733 Cabot St., Beverly, MA
01915
At Moraine Farm CSA, our vegetables are grown in an environmentally
sustainable manner: crops grow from greenhouse to harvest without the use of
synthetic fertilizers, pesticide,s or herbicides. The farmers use compost
and organic fertilizers. Green manures and legume cover crops are planted
to fix nitrogen, build soil organic matter, and prevent erosion. Seeds are
organic when available, with inclusion of heirloom and open-pollinated
varieties. We control pests through the use of crop rotations, biological
insecticides, and cultural practices such as the use of row covers. Some
bugs we'll just tolerate. Our practices are guided by the National Organic
Standards and by our own goals for achieving a sustainable system. Moraine
Farm is a property of The Trustees of Reservations.
arugula, beets, broccoli, carrots, cantaloupe, cauliflower, cabbages, sweet corn, chard, collard
greens, celery, celery , cucumbers, eggplant,herbs kale,
. lettuce, leeks, onions, potatoes, peas, parsnips, peppers,
radishes, radicchio, sweet potatoes, spinach, scallions, summer squash,
tomatoes, watermelon, winter squash zucchini.
Pick your own crops will include peas, cherry tomatoes, pole
beans, tomatillos, husk cherries, hot peppers and some herbs.
Weekly May-October farm shares are just the right size for two adults who
enjoy vegetables, a small family with limited time to cook, or someone new
to Community Supported Agriculture. On average, each farm share pickup
contains $25 (or more in good growing season) of organically grown produce,
including some pick your own veggies: $625, farm pickup.
organically grown produce, including some pick your own veggies: $325, farm
.