A comprehensive guide to local organic and sustainably grown food, services and products in Massachusetts and beyond. A project of NOFA/Mass.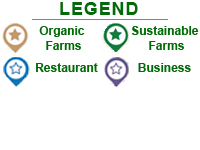 15 Lawrence Plain Road, Hadley, MA
01035
As a mixed vegetable CSA farm, we grow more than 50 different crops for weekly distribution to our share members throughout the harvest season, from June through October. Members visit the farm each week to choose from an abundant variety of fresh vegetables, flowers and herbs. We aspire to grow tasty, healthy, affordable food; provide a vibrant community gathering place; and keep sustainability at the heart of our farming and business practices. We believe everyone should have access to healthy, local, sustainably grown food, and we envision our farm as part of a greater movement for food justice and security.
Share members can also expect to enjoy opportunities to purchase bulk produce at discount prices, daily access to U-Pick farm fields, invitations to farm events such as potlucks and a bi-weekly newsletter full of recipes, farm news and sustainable agriculture information.
Asian greens,Beets, Broccoli, Brussels sprouts, Cabbage, Carrots, Cauliflower, Celeriac, Celery, herbs, Collards, Cucumbers, Eggplant, Flowers, Garlic, Beans, Kale, Lettuce, Onions, Parsnips, Peas, Peppers, Pumpkins, Radishes,; Salad greens, Shallots, Spinach, Summer squash, Sweet potatoes, Swiss chard, Tomatoes, Winter squash,
The cost of the share is on a sliding scale from $495 to $595, and members can pay up front or choose a payment schedule. We accept EBT/food stamps for farm shares. Folks may split a CSA share between two households by either coming together or alternating pick-up weeks. Members come to the farm to choose from a wide variety of vegetables, herbs and flowers. Pick-up days are Monday, Wednesday and Friday.