A comprehensive guide to local organic and sustainably grown food, services and products in Massachusetts and beyond. A project of NOFA/Mass.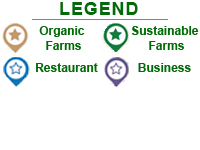 910 Greenfield Road, Leyden, MA
01337
At Sweet Morning Farm, LLC we raise a wide variety of vegetables, fruit, flowers, poultry, and pork. Most of what we grow is sold via CSA shares and our farm stand.  We also attend the Shelburne Falls Market and the Greenfield Winter Market.  We use organic, sustainable methods and focus on growing heirloom varieties and heritage breeds. Although we are not certified organic, we have been gardening organically on this same land for over 40 years.  We are firm adherents to No-Till farming practices, and believe that taking care of soil health results in the best possible crops.  Each year we have more produce available year-round, including eggs, pork, and spinach. Our farm is tiny; we are concentrated within 4 acres of our land, and only cultivate around 1/2 acre.  Our farm is a labor of love by a mother and son, Laura and Robin.  We are gradually moving towards full time farming and cannot wait, it is so satisfying.  We welcome you to become part of the farm through CSA membership, stop by our farm stand or find us at the Greenfield Winter Market or the Shelburne Falls Farmers' Market.
Eggs. Flowers. Some fruit including raspberries,apples, rhubarb, and peaches. A wide variety of vegetables throughout the year including mesclun, arugula, radishes, onions, leeks, garlic,peas, kale, chard, spinach, summer squash, cucumbers, winter squash, potatoes, carrots, beets, turnips, pumpkins, beans, broccoli, cabbage, cauliflower, brussel sprouts, herbs, tomatoes,eggplant,
Laura Timmerman and Rob Creamer
Pick Your Own is included in our Farm Shares.
Greenfield Winter Farmers' Market, monthly on Saturdays, 10:00 - 1:00
Leyden Cafe & Market, monthly on Sundays, 9:00 - 11:30
Shelburne Falls Farmers' Market
Eggs and other produce available at the farm. Sign up for our email list to hear about what is available week to week. [email protected]
FARM SHARES at SWEET MORNING FARM
Pick up at the farm on Thursday afternoons, 3:00 - 7:00. Call: 413-883-8325 or Email: sweetmo[email protected]. CSA Managers: Laura Timmerman & Rob Creamer
Shares will start by May 31, weather depending on the weather this spring.