A comprehensive guide to local organic and sustainably grown food, services and products in Massachusetts and beyond. A project of NOFA/Mass.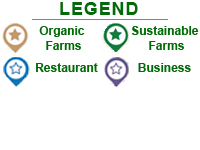 Yellow Stonehouse Farm Organic CSA
354 Root Road , Westfield, MA
01085
Hamden County's first and only USDA Certified Organic Farm & CSA (Community Supported Agriculture) program, Yellow Stonehouse Farm is a historic 79 acre property located in both Westfield & Southampton MA surrounded by a Natural Heritage & Endangered Species Landscape.  From April to December, YSF cultivates over 17 acres of certified organic vegetables and flowers for their CSA shareholders - using season extending techniques in their high tunnels as well as organic farming practices. Distributed in a market style CSA pick-up area, members chose their own share from the freshly harvested vegetables and field fruits.  There are several different types of shares to accommodate different family sizes and needs, and all memberships include Pick-Your-Own vegetables, flowers and herbs.  Every share provides recipes, culinary herbs and aromatics such as garlic, ginger, horseradish, and turmeric, plus a diverse selection of vegetables and field fruits including native varieties such as husk cherries and sun-chokes, sized to feed a family of four.  CSA membership is limited to no more than 200 for three seasonal shares: Spring/Summer, Harvest & Winter.  Prices vary from $295 to $760 depending on share type and season.  YSF also has an on-farm market that is open to the public during the growing season and offers a variety of seasonal produce as well as a curated selection of organic and local products such honey, maple syrup, mustards and pickles.  The farm also offers a "Freshness and Wellness in the Workplace" for interested companies.
Asparagus, Beets, Bok choi, Brussel sprouts, Cabbage, Carrots, Celery, Cucumbers, Eggplant, Gourds, green Beans, Kale, Leeks, Lettuce, Lettuce, Lima beans,Mustard greens, Onions, Parsnips, Peas, Peppers, Potatoes, Pumpkins, Radishes, Rhubarb, Spinach, Summer squash, Swiss chard, Tomatillos, Tomatoes, Cherry Tomatoes,Winter squash, Zucchini. Fresh Flowers Herbs
Connie Adams and John Keilch, farm owners, yellowstonehousefarmcsa@gmail.com or 413-562-2164. 354 Root Road, Westfield, MA 01085
PYO for CSA members only.
Yellow Stonehouse Farm has an on farm market that is open to the public during the growing season. Posts on Facebook and signs on the street provide information on what is available on any given day.
Yellow Stonehouse Farm is a retail operation only.
Farm Stand located at 354 Root Road; Westfield MA 01085. Asparagus, beans, chives , corn, peas and tomatoes plus aromatics, culinary herbs and a wide variety of vegetables are sold daily June through October. Summer Farm stand hours are Wednesday through Friday 10:00 a.m. to 6:30 p.m. and Saturday 9:00 am to 3:00 pm.
There are several share types available including weekly and every-other-week full farm shares plus a sharing option. There is a "freshness and wellness in the workplace" CSA option for interested companies. Summer and Fall pick-ups at 354 Root Road, Westfield MA 01085. Wednesday through Friday 3:00 p.m. to 6:30 p.m. and Saturday 9 a.m. to 1:00 p.m.