A comprehensive guide to local organic and sustainably grown food, services and products in Massachusetts and beyond. A project of NOFA/Mass.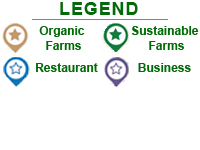 The Natick Community Organic Farm is a nonprofit, certified-organic farm providing productive open space, farm products, and hands-on education for all ages, year-round. The Farm is free to visit and open to the public from sun up to sundown [...]
117 Eliot St, Natick, MA, United States
01760
Casey Townsend and Trish Wesley Umbrell
Crabapple Farm is rooted in principles of ecological stewardship and social responsibility. We produce a diverse mix of products for our community. We combine the best aspects of organic, biodynamic, permaculture, and traditional farming principles in our farming practices.
100 Bryant St. , Chesterfield , MA
01012
Tevis and Rachel Robertson-Goldberg