F.O.O.D. Focus on the Organic Difference
vol. 13 January 11, 2019
Profile and recipe from Hannah Jacobson-Hardy of Sweet Birch Herbals and Full Moon Ghee, Williamsburg, MA
By Christy Bassett for The Organic Food Guide and NOFA/Mass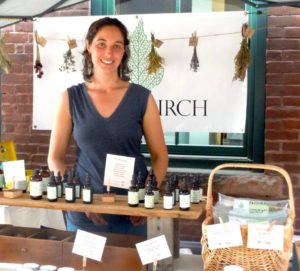 It was a love of herbs and local farms that led Hannah Jacobson-Hardy to begin her business, Sweet Birch Herbals, and later her second venture, Full Moon Ghee.  When the two passions intertwined with her custom herbal-infused ghee, a little bit of magic was released into the world.
Ghee is a traditional oil, used for cooking or condiment, made from butter.  Jacobson-Hardy purchases unsalted cow butter from New England farms and enjoys supporting local dairies.  The origin butter is heated gently until the milk solids separate from the fat.  If you are looking for clarified butter, you could stop here.  But ghee makers take this process one step further and cook the butter longer so that any extra moisture evaporates.  This makes the end product shelf stable for up to a year since there is no water left in the product to allow for bacterial growth.  The fat is then strained and separated from the milk solids before being packaged.
Besides being shelf stable, there are other reasons to choose ghee over other cooking oils.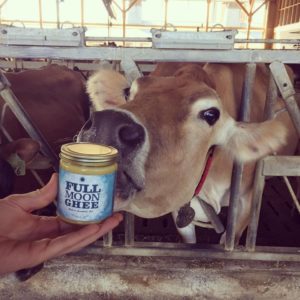 Butter or ghee?
Ghee is lactose free, while butter is not, making ghee easier to digest. Even people with sensitivity to dairy products can usually consume ghee without a problem.
Coconut oil or ghee?
Like coconut oil, ghee is part saturated fat and part unsaturated fat. However, ghee has a higher smoke point than coconut oil.  Oils with lower smoke points will start to burn more quickly.  When the smoke from the burning oil is inhaled it can be carcinogenic.  Ghee is a more forgiving oil to cook with.
Lard, tallow or ghee?
Like lard and tallow, ghee from pasture raised animals will contain Vitamin D. All three are rendered fats.  This choice really comes down to taste preference.  Ghee tastes like butter, but with a deeper, nuttier flavor profile from the caramelized milk flavors.  It goes really well with roasted butternut squash, on toast or even in coffee.  Ghee is also suitable for a vegetarian diet, while lard and tallow are not.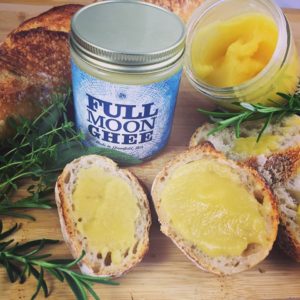 Hannah is a proponent for keeping healthy fats in our diets.  She explains "They are good for the brain and large intestine.  They lubricate the joints.  Ghee is cooling in the body and can help to heal heat conditions like ulcers and colitis.  Good fats also help you absorb nutrients."
Combine these beneficial traits of ghee with the wonders of herbal medicine, and this is where the magic happens.  Hannah has brought her knowledge of herbalism from Sweet Birch Herbals to Full Moon Ghee by infusing her artisan ghee with local herbs and flavors.
"In winter months I really like blending it with spices like cinnamon and turmeric.  The warming spice flavor is great to add to oatmeal, rice or toast.  But beyond the flavor boost, these spices can assist in circulation of blood throughout the body.  Turmeric is known to be anti-inflammatory.  Ghee, a healthy fat, can travel to deeper tissues of the body than other nutrients can.  If herbs or spices are infused into the ghee, then the compounds of them are also delivered and potentially absorbed once it is ingested.  It's a great way to get the herbal properties from your infusions straight to your joints and ligaments where they are needed most." Says Jacobson-Hardy.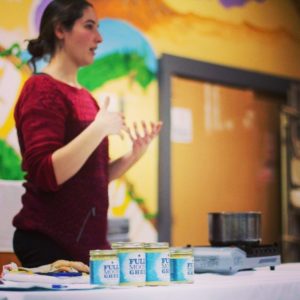 Currently Full Moon Ghee carries Rosemary, Garlic, Turmeric Spiced, Chocolate and Maple flavored ghee.  You can find Hannah at the 2019 NOFA/Mass Winter Conference at Worcester State University this weekend.  Not only will she have a table in our vendor area to sell her amazing ghee and herbal products, but she will also be presenting a workshop during the first session of the day.  Check out the workshop description:
SESSION ONE 9am-10:30am
Herbal Ghee: Debunking the Myths of Fat & Realizing its Medicine (All Levels)
Ghee (clarified butter) is the local oil of New England and it is one of the healthiest fats for our bodies to optimize performance and balance energy. In this workshop we'll debunk the myths of fat and dive into the medicinal qualities of herbal ghee that have been utilized in Eastern Medicine for centuries.  Cooking demo, tasting & handouts included.
Hannah Jacobson-Hardy: Community Herbalist & Local Food Entrepreneur, founder of Sweet Birch Herbals & Full Moon Ghee based in Williamsburg, MA.
Can't make it to the conference but want to find out more about Hannah and what she offers?  Visit her Sweet Birch Herbals website, Full Moon Ghee website, Sweet Birch Herbals Facebook page, Full Moon Ghee Facebook page, Sweet Birch Herbals Instagram feed, or Full Moon Ghee Instagram feed.  Or even find Full Moon Ghee right here on The Organic Food Guide.
​Hannah Jacobson-Hardy has generously shared a recipe with us from her archives.  Find more ways to use ghee on the Full Moon Ghee blog.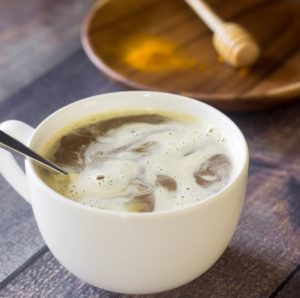 Ghee in Coffee: Why We Blend Them Together for the Perfect Cup
by Chris Sturk
Discover why adding some ghee in coffee will create a delicious treat with an extra dimension to the ever-popular BULLETPROOF® Coffee concept
The notion of adding butter and coconut oil to coffee has gained popularity over the past few years. The resulting beverage has been referred to as BULLETPROOF® Coffee. Today we're sharing the reasons why adding ghee in coffee is an even better idea than butter, and how doing so will create a delicious drink with surprising benefits.
For all of the non-coffee drinkers out there, we share some information at the bottom of this article for using ghee butter in teas or other hot beverages.
Do you already add ghee in coffee? If not, try it. Your gut may thank you
Some coffee drinkers complain about the acidity in coffee impacting their gut and digestive system. Using ghee helps reduce the acidity and inflammation in a couple of ways. First, the calcium in ghee works to neutralize the effect of the acid. Butyrate is a short-chain fatty acid that is found in ghee which has been shown to have an anti-inflammatory quality.
Want to add ghee with a little spice to your morning coffee? Try our Golden Turmeric Spiced Ghee.
Ghee in coffee: Why butter is not better than ghee
Ghee is a great addition to coffee for a few main reasons. First, ghee is comprised of pure butter fat, which is rich in vitamins A, D, and K, omega-3 and omega-6 (especially if the ghee comes from grass-fed cows, which produce more nutrient-rich milk). Ghee is derived from butter that has had its water content, proteins, and sugars cooked out.
If you use butter instead of ghee in your coffee, then you will be adding moisture, sugars, and proteins. The water content will impact the taste of the coffee, essentially watering it down a bit. The sugars and proteins in butter can make it harder for some people to digest.
Furthermore, fats in ghee help to slow down the absorption of coffee. This in turn prevents sharp insulin spikes, as well as blood sugar crashes.
Not a coffee drinker? You can add ghee into your tea, too!
You can turn your favorite tea into a latte just by adding a little ghee. The best way to do this is to emulsify it. There are emulsifying blenders out there on the market, but any ordinary blender will do the trick, too.
Add some ghee to your favorite chai blend and you will experience a delicious drink reminiscent of its origins in Ayurvedic Medicine of India.
How to add ghee to your coffee
Start with a cup of coffee made to your liking. Add one or two teaspoons of ghee, depending on the amount of coffee you want to drink and how buttery you want it. Add coconut oil if desired (MCT coconut oil is preferred by many), one teaspoon up to one tablespoon, depending on the taste you want. Then emulsify your drink until it becomes frothy.
Do you like a little sweetness in your coffee? Try making maple or chocolate coffee or lattes with Chocolate Ghee or Maple Ghee.
*BULLETPROOF is a registered trademark owned by Bulletproof Digital, Inc.
https://www.theorganicfoodguide.org/newsite/wp-content/uploads/2019/01/Bulletproof-coffee-from-FMG.jpg
739
744
Christy
https://www.theorganicfoodguide.org/newsite/wp-content/uploads/2021/05/2021-ofg-logo.png
Christy
2019-01-11 11:56:53
2019-01-11 11:59:51
Ghee Bulletproof Coffee with Full Moon Ghee