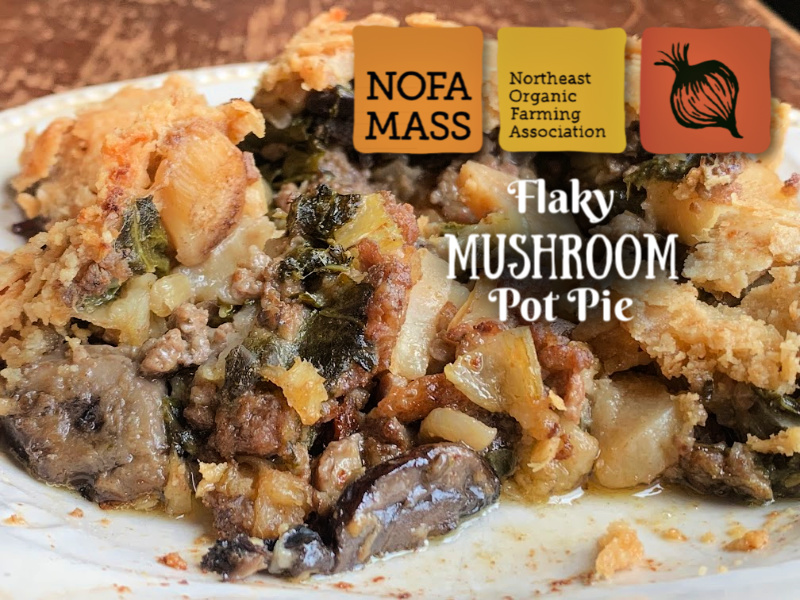 F.O.O.D. Focus on the Organic Difference
vol. 14 May 10, 2019
Profile and recipe shared with permission from Willie Crosby of Fungi Ally
Compiled by Christy Bassett for The Organic Food Guide and NOFA/Mass
Why Fungi?
Mushrooms are a great local food source that can be grown year-round on agricultural by-products. Their role in ecosystems to transform waste into life is vital to the health of the planet. We believe that by working with mushrooms we can improve our own health while transforming waste into life affirming food and soil.
Mushrooms are more nutritious than most people realize
When most people imagine a nutritious diet, they think plenty of leafy greens and brightly-colored fruits and vegetables. What about mushrooms? Despite their often less-exciting colors and technically not being vegetables, our fungal friends are actually a powerhouse of nutrition. They're low in calories, sodium, and cholesterol while being high in protein, vitamins, and antioxidants. If you are interested in knowing more about mushroom nutrition, read on to find information pertaining to protein, vitamins, minerals, antioxidants and more.
General Mushroom Nutrition
Protein: Yes, protein! Popular species of edible mushrooms normally contain 19-35% protein. Compare that to the general protein content of the following foods:
Rice: 7.3%
Wheat: 13.2%
Soybean: 39.1%
Milk: 25.2%
Amino acids: Amino acids are the building blocks of protein. There are nine amino acids essential to humans because our bodies cannot make them. While animal-based foods generally contain all the necessary amino acids, plant-based proteins are usually low in one or more kind. Mushrooms, however, contain all nine types of essential amino acids.
Vitamins: Edible mushrooms are a fantastic source of several vitamins, especially B vitamins. The B vitamins found in mushrooms help your body break down carbohydrates and fats and play an important role in the nervous system. Need more vitamins in your life? Vitamins are part of the mushroom nutrition worth knowing. Eating one cup of mushrooms can provide you with the following amounts of vitamins, depending on the species:
7% daily intake of B1
30-35% daily intake of B2
22-25% daily intake of B3
23% daily intake of B6
Most people are surprised to find that mushrooms are also a great source for vitamin D. Just like humans, mushrooms produce vitamin D when exposed to sunlight. When it comes to getting this essential vitamin, mushrooms are the only source of produce that can help. The key here is that they have to be exposed to sunlight. Check out our sun-dried mushrooms to help boost your vitamin D intake. They can be added to soups, risottos and vegetable dishes, or made into a delicious tea.
Minerals & Antioxidants: We could not talk about mushroom nutrition and forget to mention minerals and antioxidants found in mushrooms. Mushrooms contain many essential minerals, including iron, phosphor, copper, potassium and selenium. Selenium is a powerful antioxidant that protects us against heart disease and some cancers. Mushrooms are one of the richest natural sources of selenium, not to mention one of the only items you'll find in the produce aisle that has it. One single portion of mushrooms can provide a quarter of the daily needs of selenium.
Mushroom nutrition and the presence of umami flavor
Here is an excerpt from the study Mushrooms—Biologically Distinct and Nutritionally Unique, which discusses both the umami flavor and some of the nutritional constituents associated:
"Mushrooms have many flavor and nutrient characteristics that make them an ideal addition to many dishes. Their texture and umami or savory flavor properties make them a suitable substitute for meat. Mushrooms contribute moisture that improves the mouth feel and overall sensory appeal of many dishes, whereas their low energy density (about 92% water) can reduce the energy density of the final dish when taking the place of other higher-energy-dense ingredients."
The study continues with a deeper look at the umami flavor and mushroom nutrition:
"The use of other umami-rich ingredients, such as tomatoes, that have a synergistic effect with the umami compounds in mushrooms further adds to the flavor and consumer appeal. The interactions of the umami compounds on taste buds create longer-lasting taste sensations compared with the effects of the compound on their own. Traditional global cuisines have combined multiple umami-rich ingredients for millennia to create iconic dishes. For example, in Chinese cuisine, fresh mushrooms that contain naturally occurring glutamate often are combined with dried, rehydrated mushrooms that contain naturally occurring guanylate. Mushrooms and other vegetables rich in umami also have the benefit of being low in sodium and rich in potassium"
Now it's time to take advantage of all this mushroom nutrition knowledge! Whether you add fresh oysters to your omelet in the morning, a dropper of reishi extract to your afternoon tea, or dried shiitake to your soup in the evening, we hope you continue to enjoy all the exciting benefits mushrooms have to offer.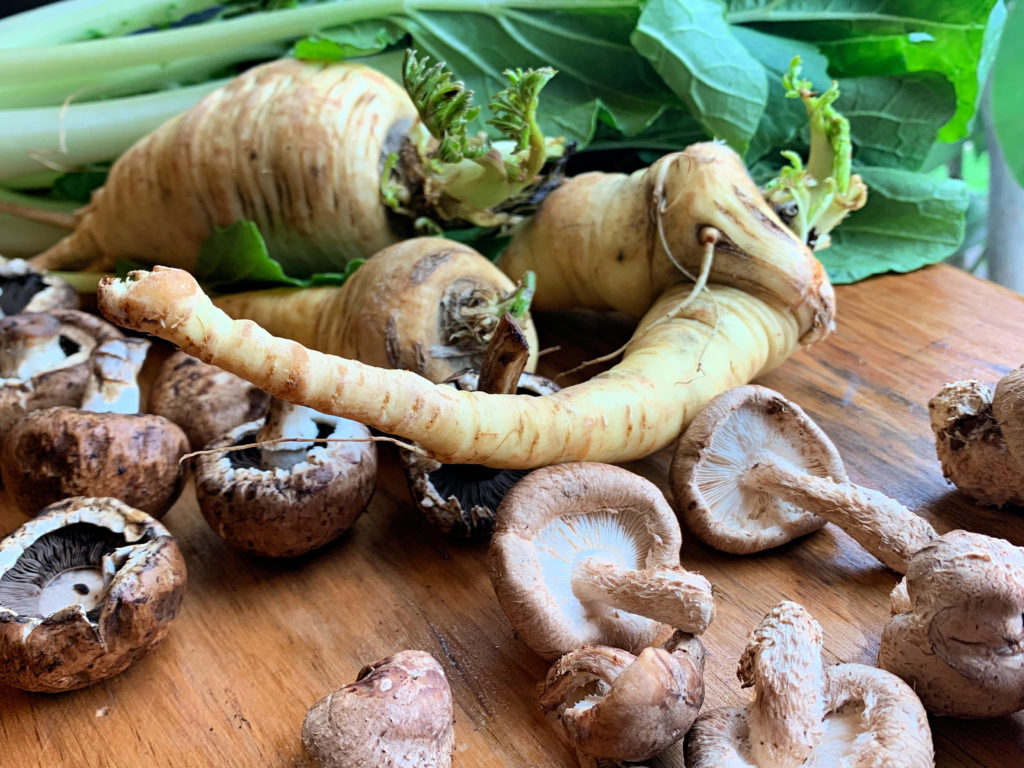 Mushroom Pot Pie
Adapted from a recipe by Fungi Ally. Find the original recipe here: https://fungially.com/mushroom-pot-pie/
Ingredients:
For the crust:
3/4 cup organic pasture-raised lard
¼ cup organic pasture-raised butter
3 cups organic flour (I used Einkorn)
1 organic pasture-raised egg
1 tsp organic vinegar
1 tsp sea salt
For the filling:
2 lbs fresh organic mushrooms (I used a mix of Shiitake, Oyster and Cremini)
1 lb organic ground pork
3 organic parsnips
1 head organic Bok Choy
1 organic yellow onion
1 Tbs organic minced garlic
1 Tbs organic smoked paprika
1 tsp organic thyme
1 tsp organic parsley
1 tsp sea salt
¼ cup organic butter
½ cup organic buttermilk
1/3 cup organic whole wheat flour
Directions:
Make the crust- Blend all crust ingredients in a food processor or by hand with a pastry blender until well combined. Roll into a ball and refrigerate at least 1 hour.
Preheat oven to 400 degrees.
Chop mushrooms, parsnips, onion and bok choy into bite-sized pieces.
Saute ground pork with onion in an extra large skillet until browned, about 10 minutes. Add garlic, mushrooms, parsnips and bok choy. Saute until all vegetables are slightly softened, about 5 additional minutes. Set aside.
Melt butter in a medium saucepan on medium heat. Add whole wheat flour and stir constantly with a whist until fragrant and darkened. Whisk in buttermilk and cook a few minutes longer until thickened. Add to meat and vegetables.
Sprinkle with paprika, thyme and sea salt. Mix well and move to 9×13 baking dish.
Roll out refrigerated crust dough and place on top of pie. Pierce crust in several places to allow for moisture to escape during baking. Brush with additional buttermilk, if desired.
Bake until golden brown, 45-60 minutes.
Allow to cool for 10 minutes before serving. Enjoy!
Want to learn more from Willie Crosby, Fungi Ally and NOFA/Mass?
Listen to Season 2, episode 4 of the NOFA/Mass podcast to hear our interview with Willie all about Becoming Friends with Fungus.
Read Caro Roszell's interview with Willie Crosby titled "Learning Your Way into the Fungal Kingdom".
Attend our upcoming on site workshop Growing Specialty Mushrooms at Home on May 11, 2019.
https://www.theorganicfoodguide.org/newsite/wp-content/uploads/2019/05/Mushroom-pot-pie-title.jpg
600
800
Christy
https://www.theorganicfoodguide.org/newsite/wp-content/uploads/2021/05/2021-ofg-logo.png
Christy
2019-05-10 17:21:27
2019-06-07 10:16:59
Mushroom Pot Pie with Fungi Ally