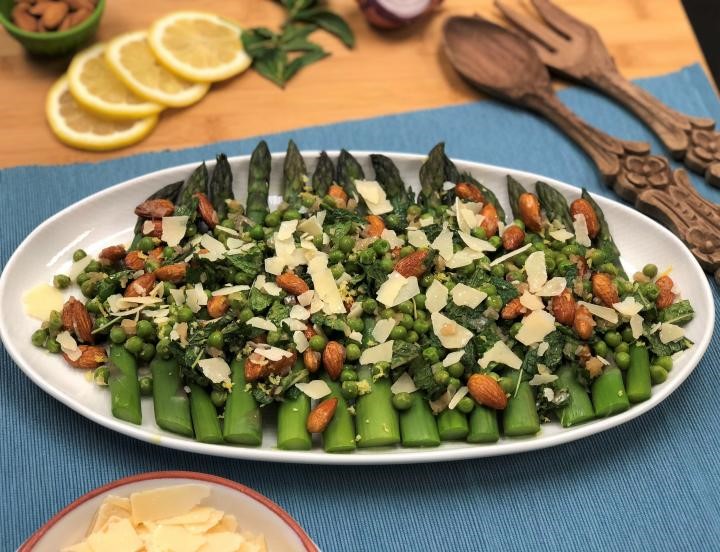 F.O.O.D. Focus on the Organic Difference
vol. 15 May 31, 2019
Recipe derived from The Old Farmer's Almanac
Compiled by Celia Dolan for The Organic Food Guide and NOFA/Mass
Spring has finally arrived and our favorite local crops are back in season! Asparagus shoots are awakening, rising up from the soil, and making an appearance at farm stands and farmer's markets. Like many consumers in New England, we are excited to snatch up these power-packed veggies and boil, grill, sauté, steam, or roast them – or even eat them raw. As asparagus becomes a seasonal staple on many people's dining room tables this spring, we thought we'd share some nutritional information, benefits of eating local, organic asparagus, and fun facts about this spring-time treasure.
Why Local and Organic?
Locally and organically grown asparagus, like other sustainably produced foods, offer environmental, economic, social, and health advantages. According to a 2015 study, over 90% of American asparagus is imported, and asparagus farmers are experiencing the negative effects of the declining demand for American-grown asparagus. By purchasing American-grown asparagus, especially locally grown varieties in New England, consumers support their local farmers and economy, and protect farmland and greenspace in their area. Local veggies also have lower emissions, thereby reducing environmental contamination and impacts of climate change.
Organic produce further protects the environment and mitigates climate change; it is estimated that organic agriculture can bind 1,000 pounds of carbon per acre, rather than releasing carbon into the atmosphere as is common on conventional farms. Since organically grown vegetables have fewer inputs, like pesticides and chemical fertilizers, they promote soil, water, and pollinator health, as well as the health of farm workers and consumers. Asparagus that is organically grown is higher in nutrients and antioxidants, making local, organic asparagus even richer in the nutritional benefits (explored next)!
Nutrition Facts & Health Benefits
Asparagus is low in saturated fats, cholesterol, and sodium while being high in protein, fiber, vitamins, minerals, and nutrients. These qualities provide asparagus-eaters with many health benefits! Read on to find out more.
Vitamins
A half cup of asparagus contains:

18% RDI Vitamin A
34% RDI Folate (i.e. Vitamin B9)
12% RDI Vitamin C
7% RDI Vitamin E
57% RDI Vitamin K
Thiamin (i.e. Vitamin B1)
Riboflavin (i.e. Vitamin B2)
Niacin (i.e. Vitamin B3)
Pantothenic acid (i.e. Vitamin B5)
Vitamin B6
All of these vitamins play a role in boosting health and well-being. For example, vitamin A promotes eye health and can even reduce risk of acne. Folate is important for a healthy pregnancy, cell growth, and DNA formation. Vitamin C reduces blood pressure and risk for heart disease. Vitamin K – the vitamin with the highest RDI in a half cup of asparagus – assists in blood clotting and bone health.
Minerals
In addition to a bounty of vitamins, asparagus also harbors minerals that further contribute to a healthy diet, including:
Potassium
Phosphorus
Calcium
Magnesium
Copper
Iron
Manganese
Like vitamins, minerals bolster health. Potassium offers relief from strokes, kidney disorders, and anxiety, while improving metabolism, strength, and the nervous system. Phosphorus aids in the formation of strong bones and teeth; calcium also aids in this effort and allows for proper functioning of the heart, nerves, and muscles. Iron eliminates fatigue and strengthens the immune system.
Nutrients
Asparagus contains powerful nutrients, as well, including zinc and selenium. Zinc helps heal wounds and promotes healthy growth in children. Selenium is important for thyroid health and may reduce asthma symptoms.
Each of these vitamins, minerals, and nutrients combine to create a powerful array of benefits for asparagus fans. The high level of antioxidants in asparagus protect cells against oxidative stress, which contribute to chronic inflammation and development of diseases including cancer. The fiber contained in asparagus reduces heart disease and risk of diabetes, particularly Type-2 diabetes. Asparagus strengthens the immune system and greatly improves gut health by feeding friendly bacteria – Bifidobacteria and Lactobacillus. It can even lower risk of depression, boost energy levels, and improve your complexion and hair health. Clearly, asparagus is not only yummy but also provides a host of benefits to people of all ages!
Now that you're an asparagus expert, enjoy making the following recipe – or concoct your own dish with this versatile veggie that can be used in salads, stir-fries, omelets, frittatas, side dishes, pasta dishes, and more!

Recipe
Yields: 6 servings
Preparation Time: Approximately 30 minutes
Shopping Tip: Purchase asparagus with firm stems and closed tips

Ingredients
5 tablespoons extra-virgin olive oil, divided
1/4 cup shallots, minced
1/3 cup whole almonds
2 tablespoons fresh lemon juice
1 pound asparagus, washed and tough bottom ends trimmed and discarded
3/4 cup shelled fresh peas
2 teaspoons grated lemon zest
3 sprigs fresh mint, leaves removed and saved
Sea salt and freshly ground white pepper
Garnish: 4 ounces Parmigiano-Reggiano cheese, shaved with a vegetable peeler

Instructions
In a medium skillet, warm 2 tablespoons of oil over medium heat. Add shallots and saute until translucent, about 5 minutes. Scrape shallots and oil from pan into a small bowl and set aside. Add remaining 3 tablespoons of oil to same pan over medium heat. Once oil is shimmering, add almonds and toast 6 to 8 minutes, stirring frequently until lightly browned. Add almonds to shallot mixture. Stir in lemon juice and set aside.
Prepare an ice-water bath and set aside. In a large saucepan, bring 4 cups salted water to a boil. Add asparagus and return water to a boil; cook 5 minutes. Remove asparagus with tongs (reserving water in pan) and place in ice-water bath. Return reserved water to a boil and blanch peas 3 minutes or until soft. Drain in a colander and refresh under cold running water. Add peas to almond mixture. Drain asparagus in colander and pat dry with a paper towel.
Arrange asparagus spears on serving platter with tips all facing the same direction. Add lemon zest and mint leaves to almond and pea mixture. Season with salt and pepper to taste. Liberally spoon over asparagus and garnish with cheese shavings.
Sources
https://www.theorganicfoodguide.org/newsite/wp-content/uploads/2019/05/Asparagus-salad.jpg
552
720
Christy
https://www.theorganicfoodguide.org/newsite/wp-content/uploads/2021/05/2021-ofg-logo.png
Christy
2019-05-31 15:13:16
2019-06-07 10:16:34
Lemony Asparagus and Spring Pea Salad with Roasted Almonds