A comprehensive guide to local organic and sustainably grown food, services and products in Massachusetts and beyond. A project of NOFA/Mass.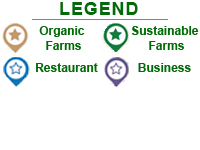 126 Federal Hill Road, Oxford, MA, USA
01540
Crown & Roots Farm is a vegetable and cut flower farm located in Oxford, Massachusetts just outside of Worcester. We pride ourselves in growing high quality nutrient-dense vegetables and fresh cut flowers for our community using organic practices.
We grow greens, herbs, and cut flowers sustainably on 1.5 acre of land.
The best way to reach us is through email [email protected] We will get back to you as soon as possible!
We offer wholesale vegetables to chefs and restaurants. For more information and to receive our weekly fresh sheet please e-mail Nick at [email protected]
CROWN & ROOTS FARMSTAND
Self-serve, roadside, May - October
126 Federal Hill Road Oxford, MA 01540
Farm fresh flower bouquets and occasional vegetables available in our self-service roadside farmstand starting in May until October. All products organically grown with love at our farm.
We accept cash, check, and Venmo @crownandrootsfarm. Stop on by!
2022 CSA Offerings:
- Vegetable CSA Share - Traditional Style
- Vegetable CSA Share - Flex Style
- Spring Tulip Flower Share - 4 Weeks
Pickups are on farm in Oxford, MA on Wednesdays 3-7PM. Our address is 126 Federal Hill Rd, Oxford MA 01540.