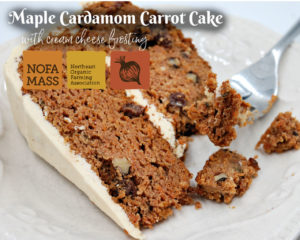 Grain Free Maple Cardamom Carrot Cake with Cream Cheese Frosting
F.O.O.D. Focus on the Organic Difference
vol. 5  11/16/18
By Christy Bassett for The Organic Food Guide and NOFA/Mass
Pulling carrots from the ground is one of my all time favorite gardening activities.  The bright green tops waving in the wind like a flag declare that there is more than meets the eye beneath the surface.  I grasp each banner individually, visualizing the hefty root that will be uncovered when I finally tug it free from the soil.
More often than not, my ideas of carrot bounty are not quite actualized, since I never tend to thin them properly or pay close enough attention to the garden as they are growing.  The slender threadlike root stares back at me as I decide whether it is worth bringing into the kitchen or handing straight to the goats.  But, sometimes, the size of the prize exceeds my expectations.  It is a psychological rush to be rewarded with the occasional jackpot when you are bracing yourself for disappointment.
This year, our organic rainbow carrots were the stars of show.  Likely due to Mother Nature keeping the ground continually moist and NOFA/Mass enlightening us on soil amendments, we seem to have struck it rich in root vegetables.  I'm not complaining.  When life gives you carrots, make carrot cake.  Especially if it is this grain-free, organic, Scandinavian spiced, version of carrot cake.
Ingredients
Dry ingredients:
1 cup almond flour
1 cup coconut flour
¾ cup tapioca starch
1 ½ Tbs cinnamon
1 tsp nutmeg
½ tsp cloves
½ tsp cardamom
1 Tbs baking soda
4 cups shredded organic carrots
Wet ingredients:
1 cup maple syrup
1 cup organic applesauce (unsweetened)
8 large (or 12 small) organic, pasture-raised eggs, beaten
½ cup virgin organic coconut oil, melted
2 tsp vanilla extract
2 tsp organic apple cider vinegar
1 cup chopped organic walnuts
1 cup organic raisins
For the frosting:
16 oz organic cream cheese (best if you make it yourself!), at room temperature
1/4 cup virgin organic coconut oil, melted, but not hot
1/4 cup maple syrup
1/4 tsp cinnamon
1/4 tsp cardamom
Directions
Preheat oven to 350 degrees F
Grease two 9" round cake pans
Combine dry ingredients in a large mixing bowl, adding shredded carrots last, tossing to coat.
In another bowl, mix wet ingredients together with a whisk. Then add to dry ingredients and stir well.
Add walnuts and raisins, dispersing into batter without overmixing.
Divide the batter evenly into the two greased cake pans. Bake for 50-55 minutes, or until the top is firm and an inserted toothpick comes out clean.
Remove from oven and allow to cool until you are able to handle the pans without burning yourself. Turn the pans upside down to release the cakes and allow to cool completely on a wire rack.
To make the frosting mix the room temperature cream cheese in a stand-up mixer until smooth. Add the melted, but not hot, coconut oil and maple syrup.  Mix at low speed until incorporated, then whip until fluffy.
Spread an even layer of frosting on one cake, then place the second cake on top. Frost the cake as a whole.
https://www.theorganicfoodguide.org/newsite/wp-content/uploads/2018/11/Carrot-cake-with-title.jpg
819
1024
Christy
https://www.theorganicfoodguide.org/newsite/wp-content/uploads/2021/05/2021-ofg-logo.png
Christy
2018-11-16 12:59:07
2018-11-16 12:59:07
Maple Cardamom Carrot Cake with Cream Cheese Frosting