A comprehensive guide to local organic and sustainably grown food, services and products in Massachusetts and beyond. A project of NOFA/Mass.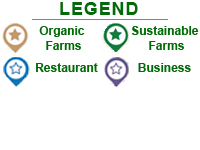 B-Organic bags are 100% non-bleach, organic cotton and they are G.O.T.S (Global Organic Textile Standard) certified. Organic fabric allows for proper air circulation which will help keep your vegetables, herbs and fruits lasting longer.
TIP: Prior to putting your herbs and greens in the refrigerator, dampened the inside of the bag with water - this will provide a moist blanket keeping refrigerated greens fresh and crisp.
Our designs on the bag will also help you identify your produce in your refrigerator. (all custom watercolor designs)
The bags are easy to care for by washing them in COLD water - flat or line drying.
Our bags will help save the environment and eliminate food waste.
B-Inspirational ~ B-Proud ~ B-Organic
100% Certified Organic Cotton Produce Bags
Recyclable, Reusable & Biodegradable
Cathy DiPilato
Worcester, MA