A comprehensive guide to local organic and sustainably grown food, services and products in Massachusetts and beyond. A project of NOFA/Mass.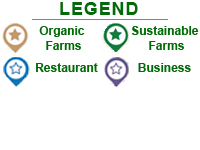 955 Lexington Road, Concord, MA
01742
First Root is a little vegetable farm with a big heart. We are young farmers who grow food with love. Founded in 2009, First Root has grown from a small start-up into a thriving CSA. We farm on 2.5 acres of historic farmland in Minute Man National Historical Park in Concord, MA. We use organic and sustainable growing practices because we want this land to be fertile and healthy for many years to come. We are proud to provide high-quality produce to folks in the Boston area, and every day, we feel lucky that we are surrounded by so many people who are as head-over-heels excited abut local food as we are!
Mixed vegetables, flowers, and herbs.