A comprehensive guide to local organic and sustainably grown food, services and products in Massachusetts and beyond. A project of NOFA/Mass.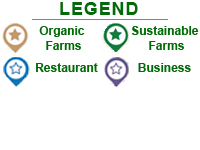 84 Shady Brook Lane, Carlisle, MA
01741
We are a certified organic grower of hardneck garlic. Our main crop is a Porcelain garlic called "Music." We are also growing a limited amount of Rocambole garlic called "Spanish Roja." We offer seed garlic as well as garlic for eating.
Carlisle, Saturdays 8 a.m. to noon.
Arlington, Wednesdays 1 p.m. to 6 p.m.