A comprehensive guide to local organic and sustainably grown food, services and products in Massachusetts and beyond. A project of NOFA/Mass.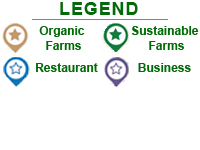 254 Lockes Village Road, Wendell, MA, USA
01379
New Wendell Farm is a regenerative, low-till bio-intensive microfarm (subacre scale) offering a small CSA share to Wendell residents and neighbors. According to Michael Pollan, the foundation of a healthy diet is leaves. They are nutrient dense, delicious, and easy to prepare. The New Wendell Farm share always has a healthy portion of leaves, from cut greens to bunched greens and leafy herbs.
The share, while small, has an element of choice-- so members typically choose 1/2# to 1# of cut greens and a choice of other items in bunches, pints or by the pound, plus a choice each week of fresh herbs.
Typical Spring Share 1# cut salad greens or braising greens-- mix-your-own options may include lettuce mix, baby kale, arugula, mizuna, pea shoots, baby spinach, cooking spinach, baby beet greens OR pre-mixes like spring mix, braising mix and mesclun mix. 2-4 seasonal items such as snap peas, bunched radishes, bok choi, salad turnips, napa cabbage, scallions, baby carrots or baby beets. 1 bunch spring herbs such as cilantro, sorrel, sage, garlic greens, or chives
Typical Summer Share 1/2# to 1# salad or cooking greens—baby kale, baby chard, baby bok choi, yukina savoy, joi choi, tat soi, cooking spinach, beet greens, lettuce mix, arugula, or pre-mixed greens like herbal salad mix, mesclun mix, etc. Choice of 3-5 seasonal vegetables like bunched green onions, swiss chard, kale, sweet peppers, eggplant, tomatoes, green beans, zucchini and summer squash, broccoli raab, herbs, tender roots such as young carrots, beets and turnips. 1 bunch of fresh cooking herbs like thyme, sage, oregano, rosemary, sweet basil, thai basil, and dill.
a diverse seasonal vegetable CSA
Wendell Farmers Market, Saturdays 10am-1pm. New Wendell Farm stand at the market is mostly CSA pickup only but I occasionally have surplus items to sell like head lettuce, salad mix, or tomatoes.
Farmstand is currently CSA-Pickup only (Tuesdays 4-6) but people are welcome to drop by to see if we have any surplus to sell to non-members.
I offer a small size share, perfect for a couple, though some small families also like the size. Shares cost $350 for a 20-week season starting in early June. Email [email protected] for more info.