A comprehensive guide to local organic and sustainably grown food, services and products in Massachusetts and beyond. A project of NOFA/Mass.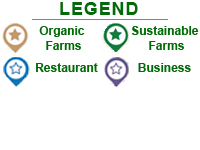 95 Maple Lane, Petersham, MA
01366
Sweetwater Farm is a certified-organic family farm that produces healthy foods from healthy lands by bridging and sharing old and new practices through a deep-rooted respect for the natural cycles which sustain us. We offer a wide variety of foods to help our community eat well and to keep farming alive. Our products are available through our website.
Lamb, beef, chicken, eggs, vegetables, fruit, hay
Karen Davis, Nikki Burton and Doug Smith