A comprehensive guide to local organic and sustainably grown food, services and products in Massachusetts and beyond. A project of NOFA/Mass.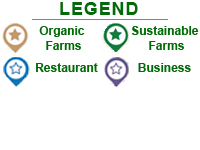 290 Miller St, Middleborough, MA, USA
02346
The focal point of our farm is the production of wholesome foods through responsible land management. We farm on 1.5 acres of land located within the greater footprint of Black Brook Ranch, a multigenerational historic farmstead. Although we are not certified "organic", we are a no-spray, zero pesticide farm. We do not use any synthetic fertilizers, and rely on soil health, quality compost, and proactive management practices for the success of our crops. We believe that limited soil disturbance is essential for healthy soil biology and ecology, and impliment a "no-till" policy whenever possible. We strive to provide the freshest, healthiest food possible, so that we all can feel good about what we eat.